Contact

Please email us at frontporchdetroit@yahoo.com. Let us know if you would like to be on our update email list. Like our Facebook Page where we post updates.


Mission
Providing educational and recreational activities and opportunities to youth in Detroit according to their interests, initiatives and needs since 1997.
History
We started as a part of a block club in 1995 with one volunteer, five kids, some books and origami. Now there is a group of over 50 kids, ranging in age from five to seventeen. The Front Porch extends to all these kids' friends and relatives who visit the neighborhood.
Goals
If children have a safe, informal place where they are free to express their opinions and explore their talents and skills, supported by adults, and to meet other kids in their neighborhood within a structure and develop a sense of safety and true neighborhood then we should see a change in the attitude of the children and eventually the whole neighborhood. It should not be just a place to live but an interdependent place in which to grow, communicate, learn and explore: a safe place from which to begin a life not bounded by a neighborhood, but rather a life rooted in a place that is a springboard to the world.
Who Is Involved?
Front Porch Grown-Ups are the kind of people who...
bake cupcakes for other people's children.

pay for pizza for months for hundreds of kids because there is no money right now.

stuff their refrigerator with food that is not for them to eat.

run up their credit card bill on things for the kids with an uncertainty of reimbursement.

give a piece of their backyard to the neighborhood kids.

donate money toward the block party and referee the games.

cook up the hot dogs for kids after a water fight and not yell at them for stepping the flower beds.

bring the kids a pile of books hoping even one will interest them.

show them how to saw a piece of wood.

sit on the porch for an hour and teach them how to knit or make a beaded necklace.

explain a long lost game like marbles or jacks on a Saturday afternoon.

will be the monster in a backyard movie.

run a million thankless errands.

take the time to chat with two friends having a disagreement.

talk about neighborhood violence in order to work through it.
We are those people. None of us are experts in childhood. We just know that kids need more than they are getting right now from the adult community. We each give of our strengths and hope that through our efforts, the children in our neighborhood are stronger and happier human beings.
Front Porch Supporters
Over the years, these include*:
the youth who started the program (Charlie, Shanelle, and Keith)

the youth who guide the program (this is every kid in the program - for their privacy we do not list their names)

Jean's mom and sister and Ms. Karen and Ms. Gene

our many individual donors, our teachers, and our volunteers who generously give their time and dig in the dirt with the kids, get donations and think of us often.

the kind neighbors in the AWARE area on the eastside of Detroit

4-H

AWARE

Bharatiya Temple - SEVA Team


Cass Technical High School: National Honor Society

Christ Church of Grosse Pointe


City of Detroit Alliance for a Safer, Greater Detroit

City of Detroit, Farm-A-Lot

City of Detroit Heilmann Recreation Center

City of Farmington Hills Treasury Department (the employees)


Classic Camera

Community Foundation of Southeastern Michigan

Continental Automotive Systems


Costco

Creag Foundation


Damman Hardware

Detroit Agriculture Network

Detroit Chinese Business Association


Detroit Free Press Summer Dreams Program

Detroit Indians - School Year 2013-2014

Detroit Industrial School


Detroit Public Library

Diamond Jack's

DTE Energy (the employees)

Eastside Community Resource and Assistance Center

Eastside Garden Supply

Elizabeth Grace - her family and friends

Emiko and her students in Osaka, Japan

The Grams Family


Gardening Angels

George V. Murray Foundation


Greening of Detroit

Grosse Pointe South Varsity Club

Grosse Pointe Congregational Church


High/Scope Educational Research Foundation

HUD/City of Detroit Neighborhood Opportunity Fund

Jersys Group


Junior League of Detroit

Kelly-Morang Senior Center

Kiwanis #1 Foundation

Ladies Ancient Order of Hibernarians Rose Kennedy Division

Levinson

(The Max and Anna)

Foundation

Lotus Bank


Marriott Hotel

Martin, Arrington, Desai & Meyers


MGM Grand Detroit Community Voice Council of the MGM Mirage Voice Foundation

Meijers

Mercedes Benz of Bloomfield Hills


Michigan National Bank

Mr. Morreale

Morgan Stanley Smith Barney


New Detroit

Nurse Missionary New Providence Baptist Church

Pawlicki Studios

Pere Gabrial Richard Elementary School Grosse Pointe


Phil Pitters

The Rock Shoppe

Rovin Ceramics

Rotary Club of Grosse Pointe

Sabin Family


School of Public Policy Public Service Committee at the University of Michigan

Schoolcraft College Students in the Early Childhood Education Program

Sieg Foundation

Skyboard Travel and Tours


Everyone at the Skillman Center for Children 2001- November 2006

Suburban Infinity of Troy


Sweetheart Bakery

The Technicomm Group

Two Seven Oh

University of Detroit Law School - International Law Student Association


Wayne State University Urban Safety Program

WXYZ 7 Action News and the Scripps Foundation


Youth Development Commission
When we say we use every available resource in the community, we mean it.
*in alphabetical order. Every single effort has made opportunity for the kids on the Porch.
Supporters Who Believed in The Porch
and Now Rest in Peace

Yale Miller
Gerald Hairston
Grandma Kubica
Grandma Belva
Grandma Buc
Grandma Juanita
Jim Monnig
Doug Fraser
Roberta Fleischmann
JoAnn Sabin

Front Porch Trustees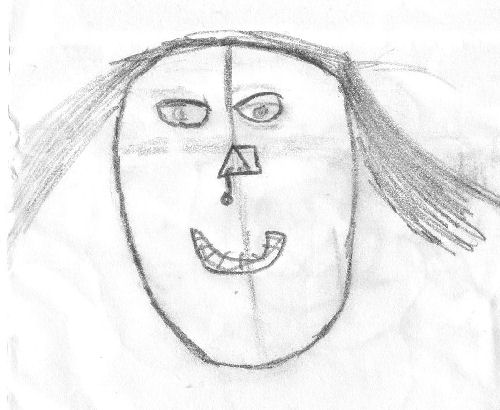 Portrait of Jean, 2011 by JD, age 11. Yes, that is a booger. Jean thinks its funny.
Jean Vortkamp, Grew up in Detroit, MIS
President, Treasurer and Director
Mary Jo Vortkamp, Grew up in Detroit, MLIS
Secretary
Rocio Oxholm, Grew up in Detroit, JD
Board Member
Advisory Board
Charlene Firestone, Grew up in Detroit
Ron Cleveland, Grew up in Detroit
President, AWARE
Partners Through the Years
First Book

Detroit Public Library

Detroit Festival of the Arts

Caribbean Cultural Organization

City of Detroit Heilmann Recreation Center

Greening of Detroit

Detroit Agriculture Network

4-H

Trips for Kids

Rooted in Community
Kids' Community Service Projects
Children's Hospital of Michigan

Detroit Public Library Services to Shut-Ins and Retirees

Amnesty International Child's Urgent Action Campaign

City Clean Ups

Michigan Humane Society

Skillman Center for Children

Earthworks

Community Meetings at Heilmann

And Ourselves (the Older Kids help the Younger Kids)
Volunteers/Teachers/Organizations
Pewabic Pottery

Tyrone Simmons Fencing Academy

City of Detroit Harvey Barcus Tennis

Students at WSU Photography and Dance Depts.

Bat Conservation

Living Arts Dance

Our Spanish Teacher from International Institute

Douglass, Our Japanese Teacher from WSU Japanese Program

Gina from the Warren Indian Education Program

Ming taught about Chinese Culture

Ralph taught Caribbean culture

Treena from Guyana taught Caribbean culture

Shawn taught Algebra

Ms. Marie tutors phonics

Alternatives for Girls

Comerica Bank taught financial education

St. John Riverview taught First Aid

Becky taught Latin Dance

April taught Ballroom dance

Joan taught knitting

Kim B. and Susan S. helped us with the garden.

Ron taught self defense

Hope let us use land for a garden

Grandma Gene made lots of cupcakes and let us use land for a garden

Mr. Vann taught about airplanes and sketching

Shannon, Zainab, Pascal, Elizabeth, Rebecca, Sarah, Alan, Ms. V, Griffin, Mr. Vann, Mary Jo, Valerie and Tony volunteer tutored at Wayne Elementary School

Teegra and Shannon volunteered on bike rides

Organization Awards
Detroit 2020 Award (Inspire) from WXYZ-TV 7 Action News

Leonard Smith Award for Organizational Excellence

Recipient of National Gardening Association Grant

Recipient of President's Environmental Award

Recipient of President's Environmental Award – 3rd runner up Midwest Region

Distinguished Service Awards from the Detroit Recreation Department for Jean

Detroit Chamber of Commerce/Detroit Police Department Citizen of the Year for Jean

Spirit of Detroit Awards for Jean

Take Time to Care Kiwanis Award for Jean
Articles/TV
Above is the WXYZ Channel 7 Story on us for the Detroit 2020 Award

The Front Porch: A Youth Program Based Solely on Relationships in Where Do the Children Play? by Elizabeth Goodenough. Published by Michigan Television in 2007.

Detroit Free Press Article by Desiree Cooper - Change, Peace Begin at Home on the Porch January 28, 2003

Hush Your Mouth Article by Erin Moran.
Trainings We've Attended
Detroit Executive Service Corps/DTE Leadership Circle

Multicultural Immersion Program – New Detroit

Logic Model Training – New Detroit

Grantwriting 1 and 2, starting a 501c3 – Accounting Aid Society

Board Member Training – Detroit Executive Service Corps

Nonprofit Administration I and II – Youth Development Commission

High/Scope Adolescent Development Training

Soil Testing - Detroit Agriculture Network

Sign Language 1 and 2 - East Detroit Continuing Education

WCNLS Community Mediation Training

American Heart Association CPR/First Aid/AED

High Scope Youth Development Training through YDC

Health and Safety YDC

Youth Work Intro YDC

Media and Marketing YDC